Some of us love shopping. Some of us hate it. I tend to fall into the latter camp, but it's a necessary evil. When I find myself having to make purchases these days, either online or in-store, I do my best to never pay full retail for anything. Discovering the Ebates app has made this quest a lot easier for me by offering cash back on purchases from a ton of retailers. In this Ebates review, I'll walk you through exactly how the app works and how I have used it to save a few bucks on my shopping over the past few months.
What is Ebates?
Ebates is a cash back shopping company that gives you rewards for making purchases from their affiliated retailers. It can be used for both online and offline shopping, although they typically have more offers available for online purchases. They are affiliated with over 2,000 retailers and have paid out over $325 million in rebates in 2016.
How does Ebates work?
The way that Ebates works is that you login to their website or mobile app and choose a retailer that you want to make a purchase from. You will then click the link to go to that retailer, which initiates a session. Any purchases made in that session through the retailer will then be recorded and you will be paid cash back at a certain rate based on your purchases.
The cash back rate is typically between 1 and 6% although it is sometimes higher with certain retailers or during promotional periods. For in-store purchases, you simply link a card to your Ebates account, make a purchase in the store that you have selected, then Ebates will automatically credit you with the cash back amount. You don't need to upload a receipt or do anything beyond linking your card to get your cash back.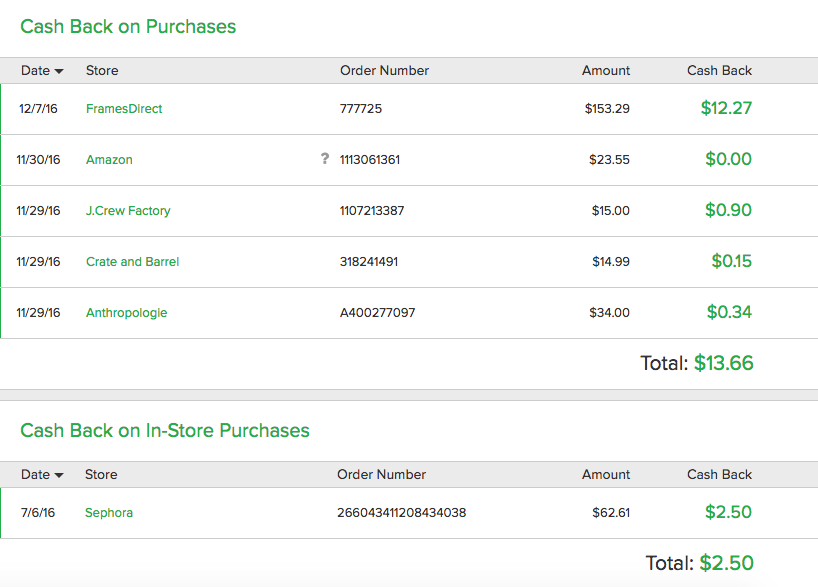 How does Ebates make money?
As an affiliate marketing company, Ebates gets paid by the retailers (both online and in-store) for sending shoppers there to make a purchase. For example, when you see that Ebates if offering you 4% cash back to shop at Walmart.com, they will get paid something like 8% or 10% by Walmart for sending you there. Let's say that you click their link and make a $100.00 purchase on Walmart.com. Walmart will then pay Ebates $10.00 for sending you, then Ebates will give you $4.00 cash back in your account, leaving them a profit of $6.00 on the transaction.
How do you get paid through Ebates?
When you make a purchase through one of the Ebates affiliated retailers, the cash back will get credited to your account within six days (usually faster). There is a holding period on your cash back before you get paid out so that Ebates can track if you return the items or cancel the transaction. After 60 days, your cash back will clear and you will be ready to get paid. On the next scheduled payment date (they are quarterly on the 15th day of February, May, August and November) you will then receive a check or a Paypal payment for the amount that you have in your account. If you have less than $5.00 in your account, it will not be paid out and will roll over to the next pay period, but you will not lose those funds.
What Ebates stores are there?
There are over 2,000 online and in-store retailers that you can get cash back from using Ebates. These include everything from Petco to Banana Republic to Amazon and Walmart. You can check out the full list of retailers at Ebates.com.
Ebates tips, trick and hacks to maximize your earnings
Always check Ebates before buying anything online or heading out to purchase at a store. You may be surprised to find that the retailer you were planning to visit anyway has a cash back discount.
Don't be afraid to substitute stores: Once you have decided on purchasing a product, you may find that the exact product is available at another retailer for the same or a lower price AND will give you cash back.
If you are heading to a mall or shopping center, link the in-store deals for any stores you think you may visit.
Don't forget to go through an Ebates affiliate link or button before you make a purchase. Just because you visited Ebates earlier in the day and saw that a site was offering 4% cash back, that does not mean that you will automatically get that offer if you don't go through their link.
Use the Chrome browser button: You can install an Ebates browser plugin that will automatically identify cash back offers when you visit an affiliated site on the web. This saves some of the research before making a purchase and is a good reminder to get your cash back.
Don't make purchases just because they give you cash back. This is obvious, but it's easy to get caught up in the game of "saving money" and buying things you don't need. If you were going to make a purchase anyway and it is the right thing for you to do financially, then by all means, take the cash back. But don't get tricked into spending more just to see your "big fat check" get bigger.
Double up with coupon codes: Before buying anything through one of the Ebates stores, search online for coupon codes to see if you can add that to your order.
Always check the terms before making a purchase: Some retailers will only offer cash back for certain types of purchases. The most common example is Amazon, which only gives cash back for certain categories.
How to sign up
You can sign up for Ebates through their website or by downloading their mobile app. By using the button below or a link in this post, you will receive a $10.00 bonus.
Frequently Asked Questions
Can you use Ebates to buy gift cards?
Gift cards are one of the nuances that you have to look out for. If you purchase gift cards, you will not be able to receive cash back. Also, make sure that you pay attention to the specific details of a retailer that you are purchasing from, as some only offer cash back on certain types of items.

Do you get cash back if you buy with a gift card?
If you make a purchase with gift cards, you will most likely not receive cash back on that purchase, but you should check the terms and conditions before trying. When it comes to coupon codes, it will depend on the retailer. I have used coupon codes in addition to the cash back through Ebates in multiple cases and they have always worked out for me, but there are some cases where this won't work. Be sure to check out the store exceptions page on Ebates for specific details for each affiliated retailer.
How long does it take to get a check?
It can take a while from the time that you make your purchase to the time that you actually receive your payment, but assuming that you have over $5.00 in your account, the longest that you would wait is 90 days for your check or Paypal payment. Typically, you will receive your cash in hand within 60-70 days.
Is Ebates worth it?
The great thing about Ebates is that all it takes to get cash back is clicking a link, then continuing your normal shopping. For the amount of time that it takes, it is always worth it. Even if you are only getting a couple dollars of cash back, it rarely takes more than a minute.
How does it work with returns?
Ebates can deduct cash back that it has paid to your account if you return the item. This doesn't always happen, but generally, if you return an item, you will lose your cash back. I say generally, because this is based on each store's policies and can vary in some cases.
For exchanges, your best bet to ensure that you keep your cash back is to return the product, then buy it again using a new Ebates shopping trip. You can do this by clicking the link again or using their plugin to activate their affiliate session.
My Ebates Review
I personally started using Ebates about six months ago after I learned of it through another online Ebates review. I downloaded the app and browsed through a few stores and was very skeptical about whether it was legit or it was a scam. I don't do a lot of shopping in general, so I waited a while to test it out. Eventually, my wife told me that she was heading to Sephora with her sister to purchase makeup. I opened the app on my cell phone, found that they were offering 4% back on in-store purchases at Sephora and decided to give it a go. I linked up the card that she was planning to use and sent her on her way. She made a $62 purchase (it still blows my mind how much makeup can cost, but I'll let that one go) and two days later, my Ebates account had $2.50 credited.
I forgot about the app for a long time since I am a very infrequent shopper, but opened it again when it came time to buy a few Christmas presents. I have made five purchases in the last month to get cash back including FramesDirect, J Crew Factory, Amazon.com, Anthropologie and Crate and Barrel. With sites like J Crew Factory, you can get very good deals because the products are already heavily discounted. For that transaction, I found an item that was already 70% off on clearance, added another 15% off for signing up for their email list and received 6% cash back through Ebates. I had a similarly successful experience when purchasing sunglasses for my mother-in-law. We found a specific pair that we planned to buy along with my sister-in-law and brother-in-law. When my wife was ready to purchase them on another site, I did a quick search on the Ebates app to see if they were available through one of their cash back retailers. I found that FramesDirect.com had the sunglasses at an already discounted price and was offering 8% cash back through Ebates. I then searched for an online promo code and got another 15% off, bringing the total purchase price way down and getting around $12.00 cash back.
Now, I'm really not one for discount shopping or coupon clipping, but I have found that I really enjoy using Ebates. To date, I have not yet spent more than three minutes finding a retailer that offers cash back and purchasing through them as opposed to the other stores where I had already planned to buy products. Obviously, Ebates isn't going to make you a lot of money (unless you are a compulsive shopper, which would kind of defeat the objective), but if you must buy items anyway, you might as well avoid paying retail and receive a few "big fat checks" (as Ebates likes to call them) in the process.